The WebPresence™ Marketing team loves to share our passion for social media and SEO (Search Engine Optimization) and how we use it to make our clients successful every single day. Each week, we will post a blog about what's going on in the WebPresence office and give you some helpful tips to help grow your business' online presence.
In past posts, we have discussed the importance of having a Facebook page for your business, why it's important to make your brand more human and how it's a helpful tool to build solid relationships with your customers. It's important to remember, however, that even though your business should certainly be an extension of your values and ethics, there should be a clear distinction between your personal and business pages on Facebook. In this week's Social Media Minute, we'll discuss the top three reasons it is so important to separate your business and personal pages on Facebook.
Your business page is about your customers…NOT about you
Your friends and family may care about your upcoming high school reunion, pictures from your Friday night bowling league, or what you had for lunch (well, maybe not that, but you get the drift)…but your customers do not. Your business page is an outlet to engage with your customers about things that matter to them, like problems they may have and how your business can help them. Remember to keep your business posts focused on engaging with customers in a professional and caring manner.
Your business page is NOT the place to share political or religious opinions and beliefs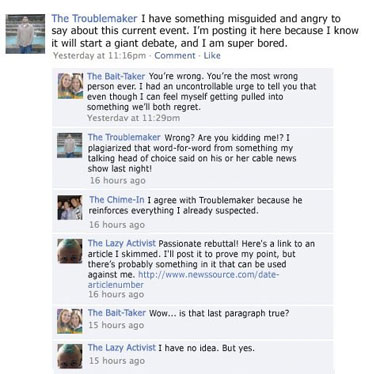 Image courtesy of
The Inquisitr
You may feel strongly about a certain political candidate or religious issue. However, sharing or promoting this sentiment on your business page is a sure-fire way to lose fans very quickly. Truth be told, if every single one of your customers shared your exact viewpoint when it comes to such hot-button issues, you probably would not have very many customers. Your business needs to remain neutral on touchy issues, and the best way to do this is to not mention them at all. If you've kept business and personal separate, it means that expressing your opinions on your personal page will only affect you and won't detract from your business' reputation.
Your business page always represents you…Your personal page does not always represent your business
Most likely, you would not go to work in your pajamas or hang pictures of your bachelor party on your waiting room walls. But you would share with your customers your favorite restaurant or a community program you support. It's important to keep these same distinctions when posting information to your personal and business pages. Your business page will always be an extension of you and you want to make sure your posts reflect you in the most positive light.
Your personal page, however, does not always have to operate under the same professional guidelines that you run your business. It's fully reasonable to share your own personal opinions and insights with your friends and family.
Does all of this seem a little overwhelming? Are you scared you might post something offensive on your business page that could cost you a customer — or worse, permanently damage your online reputation? As a business owner, you have a lot at stake every day, and it's tempting to use every possible outlet to let people know about a political cause that you care about.  There is also a fine line between sharing your best qualities and sounding like you're patting your own back — another turnoff for customers.
There is nothing wrong with letting an expert handle your business' Facebook account.  HOWEVER, you should make sure that the company who handles your social networking understands your customers.  Unless they understand your customers and are willing to do the extensive research and analysis required to find stories that are interesting but inoffensive, you're not just playing with fire…you're playing with your reputation, your security and your future.
At the Automated Marketing Group, we extensively research every client's market extensively for quality news sources, and we employ professional writers who understand just how important it is to communicate clearly and avoid taboos.  If you're ready to get back to running your business without having to worry about who you might be offending on Facebook, give AMG a call at 1-866-520-3030 or drop us a line!