How often do you search for something on the Internet? My guess is that you did it more than once today. In fact, I bet you used a search of some sort to find this article. There's a reason Google, Bing and Yahoo have so much power on the internet today. People are curious.
The great thing about the Internet is that if you really want to find something, it's right there for the taking- but if you're the one wanting to be found, you're facing an uphill battle that's difficult to win. There are billions of pages out there, and it takes skill and understanding of SEO to help you stand out.
This article is the beginning of a series of informational articles to help explain SEO in terms that you can understand. We're going to delve into all the detailed aspects of SEO in future articles, but to start, we want to define keywords and describe why SEO is so much more than adding keywords to your site.
What Are Keywords Anyway?
Keywords are the lifeblood of SEO. They are the primary tool you can use to help a prospective customer or client find your product, service or company. One thing you have to realize is that keywords are everywhere.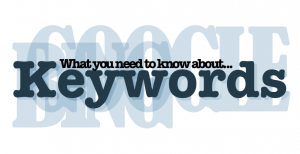 Think about your local supermarket. How do you find where the Ranch dressing is? Do you look at the aisle signs to find it? Those are specifically selected keywords based on extensive research to find general categories to classify thousands of items.
Sports are also full of keywords- most of them so specific that only the experts understand them. If you know what Defense-Independent Component ERA is, our hats are off to you. Every sport has specific terms that define an action or what creates a positive or negative result.
SEO uses these keywords to optimize your site or your paid search campaign to make it easier to find you. They can use broad match terms (like the aisle signs in the supermarket) that cater to a large audience, or long-tail keywords (just like detailed sports statistics) to make sure you're visible to that select group that wants exactly what you offer. By using a mixture of both types of keywords based on detailed research, you have the building blocks to implement a successful SEO strategy.
Fighting Misconceptions about SEO
Now that you have an understanding of what keywords are, let's talk about some of the things about SEO that might be a little misunderstood. The most important thing to realize is that successful SEO is hard work.
Most people think that's it's easy- you pick a few keywords, put them on your site somewhere, and then sit back and wait for the money to roll in. The fact is, keywords are just the basics. There are several different items that need to be researched, analyzed and maintained to ensure you get the results you want.
To get the most out of SEO, you have to have all the pieces of the puzzle, including:
•Do Keyword Research – Rule #1- try not to pick keywords that you think people will use. Say you're an auto shop, and one keyword you picked is 'auto repair'. By doing extensive keyword research, you might find out that people are searching for 'car repair' or 'oil changes' twice as often as 'auto repair'! By using the information gathered from trusted sources, historical data, and trends, you set your site up for success.
•Update The Meta Data – Meta data is the information you put 'under the hood' of your website. It provides a guide to the search engines about what is on your site. It's one of the first things that people see on any search engine after they type in a keyword phrase. Check out this image- the highlighted section is just one part of the meta data:

If the meta data is missing, then the search engines and potential visitors can't figure out why they should click on your site! It's a critical piece of SEO.
•Link Early and Often– Linking between pages and creating logical paths from another site to your site is another powerful tool. It makes your site easier to use, and leads people to what they are looking for or what you would like them to do.
If you want someone to schedule an appointment, you should have a link on your services page, to your appointments page. If you write a blog about repair, have it link to your services page and your appointments page. You build SEO value by creating these paths- and your visitors will have an easy time finding exactly what they need.
•Use Your Social Media – Facebook, Twitter, YouTube, Google+ and other conversations about your site and content are becoming more and more important in search engine results. These conversations create quality links back to your site that are valued by every search engine. Use it regularly- it will help your site move up in the rankings.
•Be Patient – SEO doesn't happen overnight. Although some results show up immediately, it takes strategy, planning and implementation to create organic traffic, see consistent positive results, and maintain them.
As you can see, SEO might not be as easy as some people say it is, but if you have all these items in place and you update them regularly, you're on your way to consistent, positive results for years to come.
The tech and social media website Mashable has declared that 2013 is the "YEAR OF RESPONSIVE DESIGN." But what IS responsive design? And is it either practical or necessary when looking at features for a small business website?
Without spoiling too much of the rest of the article, the answer to that second question is YES.  But let's dig in and find out why it's so important.
When I first got a copy of Microsoft Front Page '97 back in the late 1990s, computer monitors were low resolution, and smart phones and tablets didn't exist. Your website only had to look good on those big, boxy monitors, which really only had one resolution.
Fast forward to today, and not only do monitors come in all shapes and sizes, but now smart phones and tablets make up a huge segment of internet users.  And what's more, every smart phone and tablet has two screen sizes — horizontal and vertical views — that web developers have to consider.
Responsive design is called "responsive" because it responds to the size of the browser.  (It's sometimes called "reactive" design for the same reason.) The goal is to make it look equally good across all types of devices, from a huge desktop monitor down to an iPhone and everywhere in-between.
Of course, that's easier said than done.  When a web site has multiple columns, headers, footers, sidebars and more, you can't just make everything skinnier to fit it on the screen.  It doesn't take much to narrow a paragraph down so much that
each
line
only
has
a
single
word,
which
is
hard
to
read.
Instead, responsive design is all about how to shift elements on the page around as the screen gets bigger or smaller.  To see what I mean, try resizing this website and see how elements are shifted around depending on how narrow the page gets.
It's exciting technology, to be sure…but is it something that is even practical or necessary for small businesses?
I gave away the answer already, of course.  The answer is absolutely yes.
If your website is only designed for desktops and laptops, chances are it doesn't display or work correctly on smaller screens like smartphones or even tablets. As somebody who uses both a smartphone and a tablet on a daily basis, I can't tell you how frustrating it is to zoom way in and swipe back and forth just to be able to read the text.
Adding responsive design to your website means that it will be easy to use and easy to read on all screens. Eliminating the frustration of your potential customers can mean more potential sales.
But like all things, wanting to reach more customers and provide them a better user experience is only half the battle.  Does a responsive design require a complete, from-scratch redo?
The answer is: it depends.
Older websites were built using "tables," which is like trying to create a work of art by putting pictures and text into an Excel spreadsheet.  It was great for keeping things organized, but absolutely terrible from a design standpoint.  No amount of design is going to make an outdated, table-based website responsive because the tables themselves aren't responsive.
Newer websites have gotten rid of tables (except to actually show a table of data), which means that in many cases responsive design can be added afterwards.
The question, of course, is "are you keeping your current site's back end for a particular reason?"  Because if you're considering upgrading to responsive design, it's worth considering upgrading the back end of your website as well.
Content Management Systems — we prefer WordPress, but there are many others — make it easy for you, the business owner, to maintain a blog or post updates without knowing HTML or CSS or worrying whether you might break the entire website.
When we build websites, either from scratch or as an upgrade, we always recommend moving over to WordPress. It has a built in affinity for responsive design, high quality SEO integration and terrific list of ways that our WebPresence™ team can integrate social media and your company's website.
All of this talk of responsive design begs the question: what's your favorite example of a website using responsive design? Mashable offers a great example of responsive design, and the fan-run collection of sports blogs, SB Nation, also offers a terrific experience across all browsers.  What are your favorites?
If you are a business owner, then you know that keeping a good reputation with your customers and community is a vital part of running a successful business. One of the best inexpensive ways to keep your reputation sparkling  is by using testimonials.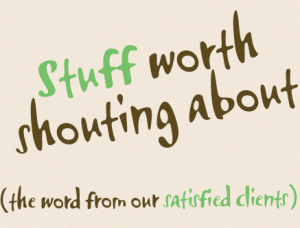 The most accurate way to explain the potential of a testimonial is through the idea of "social proof." Social proof is a concept: people tend to believe what others think about something. As it pertains to a business owner, customers will be more likely to come to your business if previous customers recommend you to them.
The implications of such a recommendation can be astronomical. This is because a testimonial can be placed in all portions of your marketing efforts like your website, online listings, blogs, and brochures. With one good testimonial you will be able to market your business, strengthen your branding, build credibility, and strengthen your reputation, all by taking advantage of social proof!
There are several ways to get quality testimonials.  One way is to use your social media pages like Facebook and Twitter. Social networking sites revolve around the idea of people sharing their thoughts and ideas to people they trust so why not take advantage of it with your business' pages? Another beneficial way of obtaining testimonials is asking for them in your place of business through tangibles such as a survey on your receipt or a flier on your main counter.
Note: Before you use any testimonial for your marketing efforts, it is important to make sure you have permission to use the testimonials from the person that wrote it.
How have you been getting testimonials for your business?
On the surface, creating a business email list is just for keeping in contact with current customers, potential customers, and other business owners. But today I'm going to prove that it doesn't stop there. An email contact list actually benefits the rest of your online marketing plan in several ways! Read on for the how-to and why of this proposition.
Step 1: Collect Emails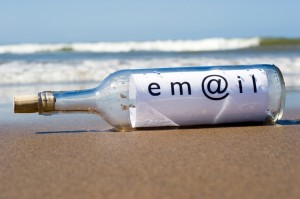 This may sound obvious, but the best and easiest way to do this is to simply ask for them. (At AMG we are prepared to help you with your email capture efforts!)
Once these emails are collected, you will have opened one venue for a very powerful marketing tactic already: word-of-mouth recommendations. With a long list of emails, at least some of the email recipients will be spreading the word about your outstanding services to their friends.
Step 2: Leverage your Email Content with Social Media Info and Links
Developing your online presence includes establishing a stronger community through social media outlets like Facebook and Twitter. If you build links to all your social media profiles into your emails, this can be a source of more traffic to those sites, where people can to become involved in promotions such as sweepstakes and quizzes.
Step 3: Alert Readership of Special Events
Another way to use your email list for online marketing is to inform your online customers about any promotions or events that your business may have. Not all of your customers are going to drive by your location and see a flier in the window, but almost all of them will probably have a computer and an email address.
These are just a couple of ways to build your online community through a contact list. Here at AMG we employ professionals that know how to help all our clients build and use their contact lists effectively in order make them successful. How do you collect emails for your email list already?
Google will run every aspect of our lives one day! I am only half joking. I am actually afraid this might happen.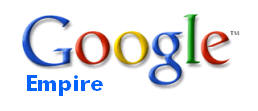 Yet I, like all of us, continue to faithfully use its resources – I'm really just another one of the "sheep in the flock."
Mainly, I've discovered, it is Google's knack for producing a flawless user experience which keeps me coming back time and time again. People enjoy using Google, even if they don't have the slightest inkling why. This is a testament to how good Google is at producing that flawless experience – we don't even notice a process is taking place!
Here's an example of a way Google makes you enjoy yourself without you knowing why.
Common Misconception: Google uses the number of times a site has been visited to choose which one comes first when you perform a search.
In reality, Google uses more complicated information – some of which includes:
•how relevant the site is to the search query
•the quality of the recommendations the site has from other sites
•how many clicks it takes for the users to get from your search result link to the information they need
Google applies these criteria to ads, too. The ad which earns the top spot on the page is not actually there because its creator threw down the most cash to have it show up first – relevancy is a huge part of where the ad shows up.
Why do those three criteria matter so much to Google?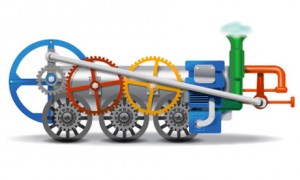 Take the number of clicks issue as an example. If you click on an ad and find yourself on a page which is not absolutely, directly relevant to what you want, do you want to be clicking all over the place on that site, and hunting around to find your answer? The longer the hunt, the higher the user's frustration becomes. Thus, Google improves user experience by prioritizing sites based on how quickly you can find what you want – or, by which sites require the fewest clicks to get the user to achieve satisfaction.
This all may seem very silly, but, let's be real, when you do a Google search, do you want to have to fish around for an answer and waste your precious time? I know I always want to find my answers ASAP. That means two or three clicks. Max. And what if I am on my smart phone? I can't be pressing who knows how many buttons which are approximately 1/6 the size of my thumb to try to find my answer. In this day and age, I need my answer NOW.
By functioning almost exclusively in a way that eliminates these frustrations, Google creates an experience where we are un-knowingly un-frustrated – a state where it's easy to forget about what's going on behind the scenes.
What questions does any of this bring up, if any?
When you eat your favorite fruit or vegetable, it's a delightful and satisfying treat. Eating fruit and veggies is an all-around good activity because
It quells your hunger
There are numerous health benefits
You like the taste!
The AMG team enjoys writing blogs for similar reasons. Blogs are a beneficial tool for creating a healthy relationship with your customers. But they are also fun to write, taking on a less formal tone than is required for other documents associated with your business. Only good can come from a well-maintained blog on your website.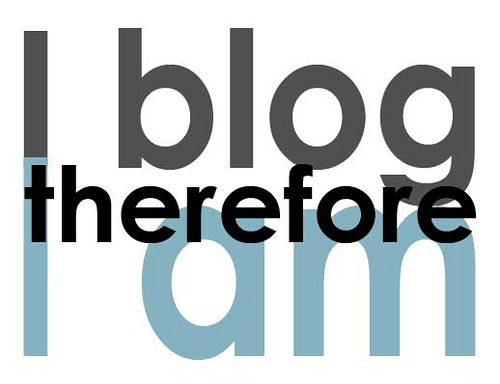 In our increasingly online world, a blog is an effective way to reach out to your community through a channel that your customers are using on a daily basis. While many online interactions between people can seem sterile and distant, blogging is one type of online communication which allows your customers to create a lively and personal relationship with you as a business owner, even in an online environment. This is because good blogs are relevant to their readers' everyday lives, and they're also fun to read! The real-time updates convey to readers that you are a real person, living in the same community where they do. And keeping your blog entertaining and light-hearted gives your readers the feeling that you're the type of person they'd find it easy to talk to – someone they'd want to do business with.
Blogs can also be an effective and sincere marketing tool. Specific blog topics about your business niche or products can promote your products to your community in a personable way which potential customers will be able to clearly distinguish from "just another sales pitch."
Having a blog can boost where you show up on search engine results pages as well. This is because Google favors sites with recently updated, relevant content over sites which do not have such content. Showing up higher on search engine results pages almost always correlates with increased website traffic – more potential customers checking out what you've got to offer!
The art of blogging takes practice, but once you get the hang of it, you'll start seeing the significant benefits. What do you want to blog about?
Summer is coming and I am PUMPED!
I can't wait to have warm mornings, full bays and happy techs, walleye biting and me biting walleye, and you making lots of money like me….but WAIT!!!!!
You are going to be really, really busy this summer, right? I mean I've already scheduled some vacations and travel — time on both coasts and even in Alaska! I am 1000% confident that MY businesses will not only be ok, they will GROW!
How can I be so confident?
Because I have been using an Ad Budget tool (the one in the RPMToolKit™, in fact) for the last ten years…and it's never let me down!
See…we used to believe that there were just times of the year when the shop would be dead for a month or two….we thought that things were supposed to slow down after the summer and pick back up in May. It's always been that way….right?  Well, not for us anymore!
We figured out a few things…
Seasons cannot be changed…but if we plan and purchase our advertising before the summer gets here (before we realize we need or want more business), we have it locked in before the competition has even considered what they will do! That means we are busy now…months before the competition! It also means we are not sitting around in April, May, or any other time for that matter!  Now, when things start picking up for summer travel, we're already in full swing and we can capture many more sales each year!

We need cars every day.  That's why we don't advertise sporadically….we do it every day! Of course, I cannot afford to mail big orders of mail pieces every day…but by synchronizing and planning all my advertising ahead of time, I can make sure that I have something going out, whether electronically or through the snail mail at least weekly! That means fewer dead spots.  It means my pipeline stays full.  And it means no empty bays or days without cars!

Cash flow is also needed every day. If I only advertise once per month, or even less-then my cash flow is going to be a mess, and I am going to have an empty checkbook much of the time throughout the year…again, my Living Ad Budget Tool™ keeps me aware of precisely what I am planning, when it's happening, how much it costs, and whether or not it's going to work, or has worked. There's no more guessing or worrying about whether I should or should not buy into an ad or coupon!

End-of-year net profit is not guaranteed by a great summer, or even by a great car count!!! It's guaranteed by first making sure your profits are in line, and then by getting the most work out of each bay, each hour you are open.  This is very difficult if you are only busy for a few months out of every year! Remember, it's not a great summer that makes a great net income! It's maximizing the dollars out of every bay, every hour!  Don't wait to get marketing out if you need cars…if you wait, you'll be more likely to make impulse buys on ads and those almost NEVER PAY OFF!!! So don't wait! Do it NOW!
Finally, I am sure by now that you've read some of the studies on the how much better off you are when you do marketing and advertising during a recession! If not, then take a look at articles like this from the Harvard Business School — it will prove to you that the idea of being in the mailboxes when no one else is will make your shop busy now….and much more stable much sooner than the competition who isn't mailing!
Want more info, or want to know how the Automated Marketing Group can help your shop get ready for summer?  Give us a call at 1-866-520-3030 or drop us a line!  This is the same marketing we use in our shop to get results that nobody else has every been able to get close to!